Hard Knocks in the Recruiting Universe
It was about seven years ago when I started my career in recruiting. . .
It was a land of smiling and dialing, posting job ads, and filtering (ahem, reviewing) infinite resumes. I managed a large local automotive manufacturing client at the time, staffing its machining and assembly lines. Very high volume.
---
---
A Tale as Old as Time
If you've been in HR or been the primary recruiter on roles like this, tell me if this sounds familiar. . .
You post the job on CareerBuilder and LinkedIn. . .
Hundreds of resumes come in over a week or two
A small group are worth calling, and only a handful will answer.
With the role being public and the client being high-profile, my phone was ringing off the hook non-stop from all types of candidates beating down the door for an interview. . .
"Did you get my resume?"
"What's the status of my application?"
"Why doesn't your client want to interview me?"
I was drained from bottle-necked activity, upset, and thinking "this can't be the smartest way to do this"
Years later, I was recruited for a higher-responsibility position with a more traditional headhunting firm.
---
---
Same Tactics, Same Results
Sadly, as time passed, I found out they generally had the same process, just for higher level roles…
"Email the job description to all of the sales reps in Atlanta and then screen the people that respond!"
This agency would use huge purchased B2B lists to mass email out on their job searches. . . Thousands and thousands of emails at a time… With all of those emails likely being the first time they had ever seen our name. The problem remained – tons of people who weren't fits from the get-go, demanding a slice of time…
And that's not their fault – we contacted them!
Not to mention the consequences of the flip-side – we had no way of focusing more energy on recruiting people showing interest and had no way of demonstrating value to harder-to-recruit (and typically more successful) associates in the market. I won't repeat the Einstein quote on insanity, because we've all heard it a million times. . .
But I did feel like Macho Man Randy Savage:
---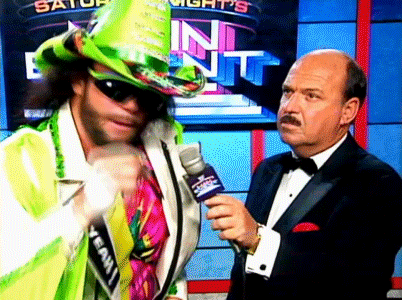 ---
The Catalyst's Aftermath
…and it was time to take things into my own hands
With my experience running e-commerce businesses in college and high school, I knew there was a better way to target candidates, the best candidates, and perpetually build interest in firms and opportunities.
The mass-blast job description email just wasn't going to cut it for companies that needed specific high-grade talent.
It wasn't going to cut it for the candidates that are having their doors beaten down every day by recruiters and firms alike.
After working with the digital marketing wizards and warlocks of the internet – my firm Legacy Search has put together a complete recruiting strategy for all organizations in the building materials industry.
We designed a process for the Digital Age 2.0…
---
---
Scale With the Human Touch
Not the pre-historic digital age of mass-email blasts, job postings, pay per clicks ads, and pointless (and non-converting) social media updates.
The second generation of the internet – This generation we are adding the human touch to the scaling power of the internet.
We're forgetting about passive job posting (fishing) and focusing on active candidate hunting
We're spending time sourcing precise audiences instead of mass markets
We're skipping the mindless email blasts for personalized job invitations
We're making job descriptions secondary in place of employer value propositions
We're abolishing (most) cold calling for long-term relationship building
By getting laser-focused on who (and how) we contact FIRST, we can cut down immensely on the time we are spending with candidates who aren't a fit to begin with.
More importantly, we can spend more time converting the best candidates in the market, teaching them more intimately about the value of the opportunity you propose and the firm you're representing.
What should you do for the top 10% of your identified audience?
Follow this link to request a copy of Elite LBM Talent: The Blueprint (link) and learn the secrets of attracting the candidates that won't answer calls or emails from recruiters…